posted 11-22-07 05:22 AM ET (US)
---

Welcome to the Scenario Design Links & FAQ thread!

After looking though some old thread by Trisolo I realized that we have a lot of interesting little bits of design features that have in a way been forgotten. A lot of ideas where started semi done then left and unfortunately they sunk into the forums to be looked on by interested forumers looking for strange bits of information hidden away in a thread.

It was upon looking at some of these threads myself I thought of the idea to create one sticky post to link to some of the lesser known and used pieces of information and tricks. I hope some of you find a good use for these links and if you have any you'd like added to the list just post with a name for the link and that URL.

In this thread you'll find all kinds of useful things, ranging from articles and tutorials to various programs that will aid you in designing your own custom scenario's. Don't forget to take a look at the Frequently Asked Questions part below in case you are new or would like to know a few answers to questions that are boggling your mind. If you have a question regarding any of the links or articles, post it here and we will help you out.



Frequently Asked Questions (FAQ)
Before posting any basic questions you might have about the editor and designing, please visit the general Frequently Asked Questions page in the Siege Workshop:
General Scn Design FAQ (Siege Workshop)
Review guidelines

Below is an updated version of the Guidelines to follow when reviewing a file in the Granary/Downloads section.


Review Guidelines - An Alternative. Part 2


General questions
Q: I have a question. Can I start a new topic?
A: To keep the forum from cluttering, please ask any questions you might have in this topic.

Q: Where is Age of Empires installed?
A: Unless you chose a custom location to install the game, the default location is: C:\Program Files\Microsoft Games\Age of Empires. You can find all the game data, such as scenario's, .dat and .ai files in there.

Q: How do I take screenshots, and where are they located?
A: Press F12 in-game. Screenshots will be stored in the main Age of Empires directory, and are named AoE0001.bmp, AoE00002.bmp and so on.

Q: I want to share a screenshot here. How?
A: Upload the screenshot to a place such as Imageshack or Photobucket. Both are free to use. Use the IMG tags to include it in your post.

Q: I want to ask people to playtest my scenario/campaign.
A: You can either ask it in this thread or create a new topic asking for Playtesters. Be sure to give a brief explanation on what your creation is about, and what kind of feedback you are expecting from those that try it out.

Q: I want to upload my file to the Downloads section/Granary. How do I do this?
A: You can submit your file here. Provide details about your creation and don't forget to include a nice, short description.

Q: How long does it take for my file to show in the Granary?
A: Most files are usually approved within 72 hours. Depending on the size, it may take some additional time to quick-test it and making sure your file does not violate the CoC. If it is still not up after a while, please contact the Staff.


Scenario Editor questions
Q: How do I make a campaign?
A: Open up the Campaign editor and add your custom scenario's. Give it a name, and save it. You can find your campaign in the default AoE directory -> /Campaigns.

Q: What are .AI, .PER and .CTY files for?
A: These control the computer's behaviour during a game. There are various cool tricks that can be done through custom files, a good example of this is the computer asking for "Tribute". They can make a scenario a lot more interesting and challenging to play.

Q: How do I obtain Beta units?
A: A few of these were available on templates in the early days. Today, every possible beta unit still hidden in the game is unlocked and available through the Composite Editor. After installing this superb tool, you'll have acces to tons of units normally not found in the Editor. For more information on beta units, go here.

Q: What is and how do I install the Composite Editor?
A: To sum it up: The best utility for the editor ever made. It allows you to overlap buildings (no restrictions), unlocks hidden units and much more.

Installing it is pretty simple, really. First of all, make a BACKUP of your original empires.dat files and store it away in a seperate folder. Then all you have to do is copy one of the provided CE empire.dat files and overwrite the old one. Open the editor and voila, a plethora of new options are now available to you.

See the documentation included with this tool to see which possibilities are available with the empires.dat files provided. To test out your scenario normally, replace the enhanced empires.dat with the default empires.dat file (the BACKUP copy) and restart the game.

Q: Can I use Triggers like in AoK?
A: Triggers are not part of AoE, sadly. However, there is a way to create your own custom triggers, or "dynamics". Examples of this are a burning gaia village, or a diplomacy chance at a certain point. Most high-rated scenario's/campaigns make use of these. Below is an example of a "timer" and how it works: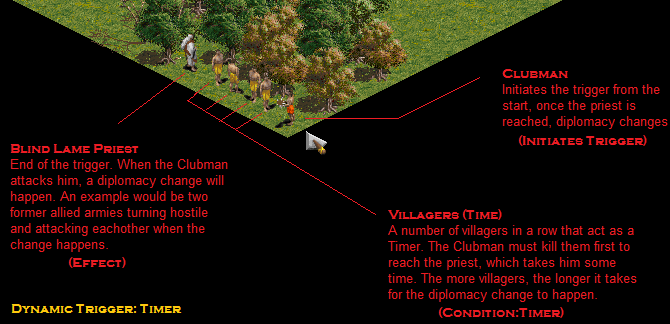 There are many methods you can use for this. The most important thing here is to test the trick a million times to ensure it does not fail.

Q: Negative resources. How?
A: Go to the Messages tab, and type a - (minus sign). Select and copy it. Go to the Players tab, resources. Right-click the field and paste the - before any resource number you have filled in. Alternatively, you can use Shift+CTRL+V or just CTRL+V.

Q: I've seen a scenario that has units with more Hitpoints, how is this possible?
A: There are 2 methods to achieve this. The easiest way is to download a template that includes the "Lengthen Combat Mode/3xHP mode" which triples the amount of nearly every unit/building (with the exception of Gaia). This was a special mode available in the alpha version of the game. Note: this does NOT require a modpack. The second method is to alter a Unit's HP through AoEd/RoRd, a program which allows you to alter everything in the data files AoE uses, which are the empires.dat and empiresx.dat files.

Q: Can you get a higher elevation than 7?
A: Yes. The highest elevation possible is 8, which can be downloaded from templates or made through Hex-editing (Zlibnoh).

Q: How do you get black tiles, beta beach tiles and other special terrains?
A: Similar to the above question. There are several templates which include these hidden terrains, made possible through Hex-editing.

Q: What is the biggest map size available?
A: 255x255 tiles, which you can download here.

Top of page


Please post any useful links/articles/tutorials/utilities/questions you might stumble upon, likewise if you want your article featured in the list leave your reply here and I'll add it to the OP. Happy designing! - PhatFish
[This message has been edited by PhatFish (edited 07-24-2012 @ 08:23 AM).]